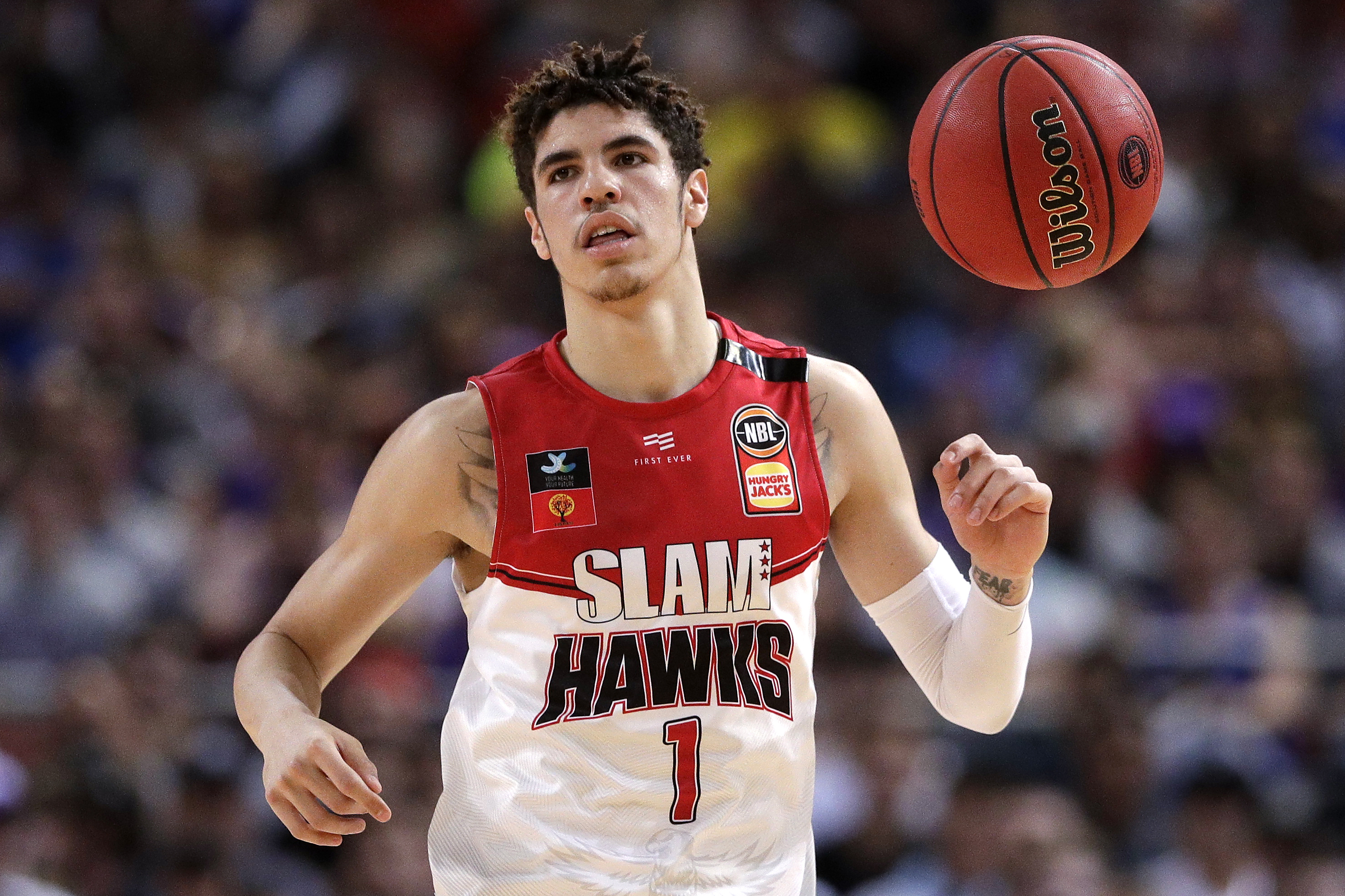 At this point, it's tough to say when and if the NBA season will finish. We know that the NBA has already cancelled and/or delayed its G-League Elite Camp, the lottery, and the combine. The draft is probably next. However, it's never too early to start looking at the prospects in one of the most convoluted draft classes in recent memory.
Part of the reason why this will be interesting is because the players have a little more power than usual. They can finally, as long as they've hired one of NCAA certified agents, return to school if their test of the NBA waters doesn't go as planned.
The other is because most personnel, scouts, and executives don't believe there is anything of value in this draft outside of maybe the first 7 or 10 guys. However, this class is loaded with promising guards and there could also be a few hidden gems that could surprise some people in the second round.
There are some key headliners when it comes to this draft. The most popular one being LaMelo Ball. He will undoubtedly be called in the top 5 or even, perhaps, number 1 overall. We also have 2 Euro darlings, a few crazy athletes, and a few guys in the top 15 who most of you would have never heard of during the regular season.
Before I get into this, I suggest using a good mock draft if you're unfamiliar with certain players and which players are projected to go where. For me, I trust NBADraft.net. Every year this is the one that, for me, is the highest quality. But remember, this is NOT a mock draft. This is a ranking of the players in the draft based off of the following criteria:
Overall Talent
Basketball IQ
Potential
Translation to the NBA
Size (height/weight/wingspan/etc)
Long Term sustainability
Most teams today use these things except their order of importance is usually very different. This will in no way be the order of the draft because every teams need is different and every prospect has skills that some teams may value over others. So… here are the rankings:
Deni Avdija: (6-9/210… SF-Israel/Euro): What!?! If you have watched college basketball you're probably wondering "who's that?" and even if you haven't but keep up with Euro basketball you're still probably wondering "who's that?" because seriously…. who is that? You are going to learn who this kid is relatively quickly. He is the best player in the draft *bold take*. He is a 2-time Israel league champion and has made a huge splash at the FIBA U20 European Championships by winning MVP (he's only 19). He is an extremely above average passer and transition player. At 6-9, he is a good rebounder and pushes the tempo on transition opportunities so quickly. He is a nightmare for transition defenses. In a few games, I've seen flashes of dynamic cutting in off ball situations which is pretty rare in players as young as he is. If you don't know what I mean by dynamic cutting, go put on a Raptors game and watch Pascal Siakam the entire time and you'll see what I mean. He is, however, a streaky shooter. His jump shot is fine looking but his percentages can fluctuate. This will be sure to balance out once he gets consistency in the league. He is much better on catch and shoot opportunities but that shouldn't be a concern from scouts. His defense also isn't anything to go crazy over. He is an ideal point-forward in today's league. He is pretty skinny and could struggle with post defense but again, it's something he'll learn as he works on his body. He's kind of like Ben Simmons if you took away Ben's and defense and gave him a jump shot.
2. Cole Anthony: (6-2/180…PG-North Carolina): I am a HUGE Cole Anthony truther. Until I saw Deni play, Cole was my number 1 pick and I, quite frankly, didn't think it was even close. I watch a lot of high school/AAU basketball and he is one of the best, if not the best, high school guard I have ever seen. In fact, he is one of the best high school players ever in a lot of statistical categories. Cole Anthony is the most talented offensive player in this draft. He is a highly above average finisher around the basket, passer, and rebounder (for his size). His basketball IQ is off the charts and he is one the most confident players in this draft. His knee injury was catastrophic to an already weak UNC team. He played, and played well, against some of the best defensive and veteran guards in the country like Zavier Simpson, Tre Jones, Payton Pritchard, Kihei Clark, and Devin Vassel. Seriously, go look at how good these guys are on defense at the college level. No guard in college basketball finished better through contact than Cole. People will look at Cole Anthony and be suspicious because of his percentages. You have to understand something… Cole played on a bad UNC team. This is a similar situation to the problem people had with R.J. Barrett 2 seasons ago. The reason his percentages aren't so great is because he had to take more shots than usual because his teammates really weren't capable of creating their own shots. This kid is legit. If he falls anywhere from 5-10, the team that gets him should throw a parade in the street because he is a top 3 talent.
3. James Wiseman: (7-1/235…C-Memphis): Coming out of high school I was a little bit skeptical of Wiseman. He seemed to me like a big who just wanted to shoot 3's all the time and wanted no part of being big. However, Penny Hardaway turned that around pretty quickly. Yes, he only played 3 games due to the terrible rules of the NCAA. However, in those 3 games he played like what I imagine it was like watching Wilt Chamberlain play against all the short dudes way back in the 60s. It was completely unfair. The reason Wiseman was so dominant was because Penny Hardaway put Wiseman into a system. He will likely be the kind of player who will be extremely effective in some sort of triangle/horns system. He seriously must have dunked the ball almost 20 times in those 3 games he played. There was nobody who even wanted to try guarding him. He will be, of course, an elite shot blocker due to his elite athleticism and size which gives him tremendous defensive upside. His ability to shoot the 3 is nice but it could also hurt him if he decides to start shooting them on a consistent basis. We've seen how this has worked for guys like Embiid (not well at all). I have no evidence to back this up but I really think the Warriors have him highlighted in big letters on all their boards. if they draft him and put him with Steph, Klay, Wiggins, and Draymond, that will immediately put them back in the hunt.
4. LaMelo Ball: (6-8/180…PG-Australia): About half a year ago I probably would have had LaMelo just inside of or just outside of the top 10. However, he has gotten extremely good in Australia. He has always had the skill, but the most important thing he learned in playing professional ball was pacing himself and making smarter decisions. His shooting ability, ball handling, and finishing around the basket has always been good. Now, the cause for concern would be his thin frame as well as his idle defense. But as most top prospects eventually learn (unless you're Andrew Wiggins or Trae Young) how to told your own on defense as time goes on. His IQ, like his brother's, is very good. If he can keep his energy up on defense and bulk up some, he should turn into a fine player.
5. Killian Hayes: (6-5/195…PG-France): Hayes has undoubted translation at the next level. If he ends up being the best prospect in the draft, I wouldn't be surprised at all. Him and Cole Anthony are the two best finishers around the rim in this draft. The only hole in his game is he isn't super athletic. The lefty has a decent frame but isn't a crazy athlete. However, he makes up for it with his poise in transition. He has pretty good hands on the defensive end too and will definitely be an immediate impact player. His 3 point percentage may not be where scouts would like it to be but he has recently gotten his free throw percentage up to 86% which is extremely promising for prospects who are streaky shooters. This should tell teams his shooting fluctuations will level out with time. His poise and IQ are the strongest aspects of his game. I would be surprised if he didn't make some sort of impact in the league.
6. Anthony Edwards: (6-5/225…SG-Georgia): I'm going to be honest, I am not a huge Anthony Edwards guy. He is, however, the most athletic player in the draft and it's not close. He is extremely streaky. Not just with his shooting but also with his overall effort. When he gets down, you can see it all over his face. This is obviously a huge red flag. However, he is extremely young and could develop into a perennial all star if he reaches his ceiling. His coaches say he is extremely coach-able which contradicts his on court body language at times. He has huge defensive upside and has an interesting NBA comp. If this comparison is worth anything… he has the good attributes of Wiggins and the bad ones of Westbrook. Yeah… that's kind of scary. On the bright side, he will probably go number 1 because every team in the draft picks their players on one factor above all: Potential.
7. Jaden McDaniels: (6-9/200…SF-Washington): There have been a few mock drafts that have had him going as low as mid-late 20s. Uhhh…what? This dude has an NBA build and has all the attributes that can be translated into an NBA forward. He has a pretty shooting touch and has extreme defensive upside due to his wingspan and overall length. He is a pretty good shot blocker for a wing and is a pretty good finisher around the basket. He was one of the 10 best players coming out of high school and I think he got a little bit down being on a terrible team. You would think a team that has 2 top 10 recruits wouldn't end up dead last in the Pac-12. Anyway, their season as a whole was disappointing but McDaniels was always pretty good in all of their big games. He is definitely big time and has potential to reach an all star level.
8. Vernon Carey Jr.: (6-10/265…C-Duke): Although Duke doesn't have that top 3 pick like usual in this draft, Vernon Carey could be a steal if he falls outside of the top 10 or 12. He was one of the only Duke freshmen in recent memory who really didn't have any bad games. He was extremely consistent and was the national freshman of the year. Teams game-planned for Carey night in and night out and still couldn't stop him in the post. In high school, he barely played in the post. He was mostly handling the ball, dunking on people, and taking step back long 2s. At Duke, however, he became an unstoppable force. He shot nearly 60% from the field and played extremely well in so many of their big wins. Even Kansas, who was far and away the best team in the country, didn't have an answer for him on opening night. His ability to shoot from the outside will allow him to be a 5 or a stretch 4. The only real hole in his game is if he can maintain a proper weight to keep up at the fast pace of the NBA. If he falls beyond 12 it should be considered a steal.
9. Isaac Okoro: (6-6/215…SG-Auburn): I actually think Okoro's offensive skill set is really really good. His percentages can be misleading to his importance to Auburn this year. The reason I have him so high is because he was far and away their most important player this year and was able to take over some of their games. He has a great jumper and is a good decision maker. He can easily be a role player for several teams right away and he can evolve beyond that into a great shooter if he keeps working on his consistency. He has the size and skill set to be a good NBA shooting guard.
10. Obi Toppin: (6-9/220…PF-Dayton): Okay don't freak out… I know I don't have him in the top 5 like the rest of America does. I know basketball is position-less these days but I really have no idea what position this dude is. I love the Obi Toppin story. Dayton's offense was extremely fun to watch this year and Obi really came into his own. We've seen Obi Toppin-like players before except there is one difference: Obi can shoot. That's great! Although I have a good, but maybe disappointing, comp for Toppin: He has Brandon Clarke's athleticism and has Brice Johnson's skills around the basket. Those two guys couldn't shoot at all and Obi can shoot a little bit, which helps. However, he really isn't as great a shooter as people think he is. He is good, but not great. His vertical athleticism is great but his horizontal agility is kind of robotic. He isn't big enough to play a true 4 and isn't skillful enough to play the 3. I worry about him being able to switch on defense. He is, for sure, a very interesting prospect. I just don't see him translating his sensational season into the league like I think everyone expects.
11. Daniel Oturu: (6-10/240…C-Minnesota): Oturu could be a serious steal for someone in this draft. He played for the team that had one of the strongest strength of schedules in America (3rd in Kenpom). They played in the best conference in America as well and Oturu had a monster season averaging 20 and 11. He has a great motor, great defensive presence around the basket, and great hands. He does have a tough time guarding the perimeter at times but overall he is a talented, battle-tested player who can be a quality big immediately for a team.
12. Tyrese Hailburton: (6-5/185…PG-Iowa State): Here we have a floor general who has great court vision, excellent box-out ability, and has a weird looking jumper that goes in most of the time. Sound like anyone in the league you can think of? I swear when I saw him this year I thought Shai Gilgeous-Alexander was actually wearing an Iowa State jersey. Is his shot weird? Yes. But what if I told you he shot 42% on 3s this year? You would probably say it's because the volume isn't there because if you've seen his shot you wonder "how does that go in?". However, this dude shot 42% on 5.6 attempts a game… In the Big 12… that's pretty damn good. So all in all, the guards in this class are pretty loaded. Side note, Hailburton is the best pick and role point guard in the country. Dang… should I put him higher?
13. Saddiq Bey: (6-8/215…SF-Villanova): Every year I always have a guy that's my favorite player in the draft. This year, it's Saddiq Bey. Villanova was getting hot at the right time at the end of last season and most of it was because of this guy. Bey is very consistent but when he gets hot, he literally doesn't miss. His offensive game is one of the 3 best in this draft and it shocks me some people don't even have him going in the first round. He is an extremely above average shooter and can put it on the deck too. He isn't an extraordinary defensive player but he is really really good offensively. His release is a little bit low but extremely quick. Seriously, check him out he's nasty. Do I hear a Buddy Hield comp?
14. Precious Achiuwa: (6-9/225…PF-Memphis): Spastic at times, Achiuwa is a non-stop, high motor, 110% effort forward who has extreme upside. He could start out as a high energy guy off the bench and could slowly earn and work his way up the latter. It's extremely hard to keep a guy with so much physical presence, passion, and effort out of the top 20. He won conference player of the year and conference freshman of the year in the American after Wiseman was ruled ineligible. He can sometimes be extremely out of control but for the most part he is an above average defensive player at the college level and his work ethic will raise his ceiling in the league.
15. Onyeka Okongwu: (6-9/235)…PF-USC): This dude just keeps rising. He went from nobody knowing who he is to being a top 7 pick. He is big, athletic, and isn't afraid to go at any defender. He is a good shot blocker but has a tough time because he tends to leave his feet too much. At the next level, he could see himself in a lot of foul trouble. He is pretty talented in the post with a high IQ to rebound. Should be a solid big for some teams trying to contend.
These are just the best 15 prospects in the draft. There is, to me, a slight dropoff in some of these guys in the next 15. The next 15 are:
#
Name
Ht/Wt
School
Position
Strength
16
Theo Maldeon
6-5 175
France
PG
Promising jumper
17
Josh Green
6-5 200
Arizona
SG
Excellent finisher around rim
18
Nico Mannion
6-3 190
Arizona
PG
Raw offensive talent in all aspects
19
Isaiah Stewart
6-9 250
Washington
PF
Excellent back to the basket skill set
20
Aaron Nesmith
6-6 215
Vanderbilt
SF
Arguably the best shooter in the draft
21
Devin Vassel
6-7 195
Florida State
SF
Exceptional on and off the ball defender. The best team defender in the draft.
22
Immanuel Quickly
6-4 185
Kentucky
SG
Potential to be an elite shooter
23
Tyrese Maxey
6-2 190
Kentucky
PG/SG
Above average driver and finisher around the rim
24
Udoka Azubuike
7-0
280
Kansas
C
Could be a dominant big. Clint Capela Comp.
25
Zeke Nnaji
6-11
240
Arizona
C
Potential. Potential. Potential
26
Devon Dotson
6-1
180
Kansas
PG
The best player on the best team in CBB. Do-it-all for any team.
27
RJ Hampton
6-4
175
Australia
PG
Super confident in his raw skill and athletic frame. 2-way potential
28
Jalen Smith
6-10
215
Maryland
C
A lanky big who can shoot 3s? For some reason, GMs gobble this up
29
Patrick Williams
6-7
215
Florida State
SF/PF
Guards 1-5
30
Tyler Bey
6-7
215
Colorado
SF/PF
Versatility on both ends
Here is a small list of few more guys who will be outside the first round, most likely, but can still impact a team:
Cassius Winston: You would be ridiculously insane to not want the greatest guard in Big 10 history on your team. Yeah… I said it. He is so easy to root for and was the heart and soul of Michigan State.
Killian Tillie: Okay this dude is literally Davis Bertans. He could help so many teams. I'm looking at you Danny Ainge.
2 really good offensive seniors with leadership experience (Payton Pritchard and Markus Howard)
The 2 best defensive guards in the county (Tre Jones and Ashton Hagans)
Kira Lewis Jr. had a pretty nice final stretch of the year. I didn't include him because the sample size wasn't good enough but he can obviously help a team and will probably be taken in the first round.
Cassius Stanley is going to be good… eventually. He will be a project.
*All stats, heights, and weights taken from Basketball Reference*